We live in an awesome town, Waxhaw, NC. Located about 30 minutes south of Charlotte, NC, it's a town where it can take a while to go to the Post Office or grocery store, because you almost always run into people you know.
I was recently asked to help with a photo session at the  Waxhaw Volunteer Fire Department for a set of new website images. The Waxhaw Volunteer Fire Department has been serving the local community for 60 years and is operated primarily with volunteer work.  A great group of men and women that I am honored to call friends, I volunteer with them in a support role.
A little known fact is that almost 70% of the fire departments in the United States are still volunteer organizations.  A quick plug here – if you have ever thought about volunteering as an Emergency Medical Technician (EMT) and/or Firefighter, most districts will pay for your training, please contact them.  Most departments also have an auxiliary, for those who want to serve, but aren't able to put in the time to be fully certified.  If you live in the Waxhaw, NC area, visit WaxhawVFD.ORG and click on Recruitment. Oh, and you get to ride around on the big red truck.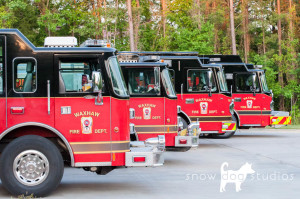 Waxhaw Volunteer Fire Department Session
The plan was to feature the station and the equipment. The department recently purchased a new Rescue Truck (Rescue 18) and we wanted that to be reflected in the new department website.
I worked with one of the Captains, Chris, to position the equipment in the late afternoon, waiting for that magic time in the evening right as the sun was going down. Chris is an accomplished amateur photographer and we both had a great time on this shoot. I made the mistake of letting Chris use one of our professional Nikon bodies to shoot with, and I think I spoiled him.
Just as we were finishing up the shoot, a call came in and the guys had to run to investigate an alarm. The next time you see your local firefighters out, tell them hello and thank you. And don't be afraid to call and set up a time to visit your local station with your kids, most stations are more than willing to let you visit.